Have you heard of the 3/50 Project? Well, before I tell you, let me ask you something. What 3 local businesses would you miss if they were closed down tomorrow?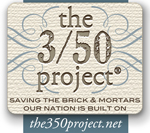 I don't know about you, but I can think of several…including Stitchin' Heaven. We need to remember that the small businesses are what make up what this country really is. It's  knowing the owner of your local dry cleaners or going to church with your local Pharmacist or having the grocery store manager know your name and who can actually ask you about things going on in your life…It's the quilt shop that knows you by name and lets you come in and make the classroom your own little sewing room.They aren't just places that provide goods or services…They are our friends and family who invest in making us happy and keep us coming back.
Our success, as a small business, depends on you. While we understand, that some people feel they need to save money by purchasing from larger or chain companies, you must also, realize that you sacrifice some things that only the small business can provide. Like personalization, service – getting to speak to a real person who actually handles  you with care and consideration.  We also,  package every box like we are sending you a gift, prepare all of our kits with appealing arrangement, talk to you and share on Facebook, host parties just to show you how much we care (we host several luncheons throughout the year) and many other things. I mean, you are what makes us who we are and who inspires us to want to be even better. Will Wal-Mart do that for you?
Stitchin' Heaven is a proud supporter of the 3/50 Project and you can be too!  Follow the link through the image to read more about it and to find out how to get the app for your iPhone.